About Quality Stamps
Hi! My name is David Medeiros. I am an owner and buyer for Quality Stamps.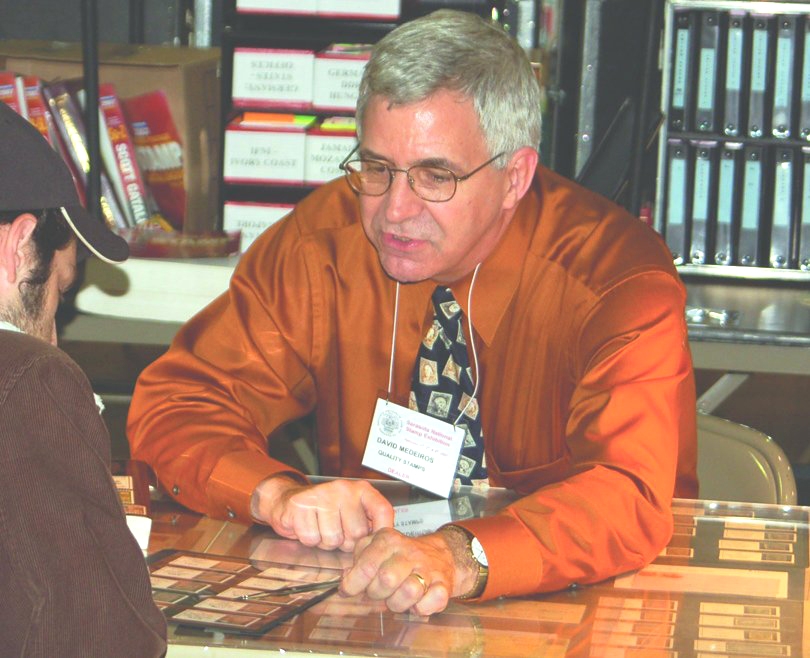 Here I am at the Quality Stamps booth at a stamp show, pointing out details of one of the many stamps we have in stock
My wife, Francesca Lund, & I are full-time, professional stamp dealers currently living in Venice, Florida. I have been a professional stamp dealer for over 40 years. I began as an employee at Weeda Stamps in Vancouver, BC, where I became a full partner & their principal stamp buyer. In 1997, Francesca & I moved to Florida to begin our dream of our own stamp business ... & Quality Stamps was born.
I find interest in most areas of the world & have collected Portugal & Colonies, France & Colonies, Czechoslovakia, Heligoland, pre-1940 CDS cancels, as well as numerous smaller areas. Given my broad interests, I find pleasure in buying virtually every area of the world, from classic US to Bermuda ... Spanish colonies to Russia ... St George & the Dragon gold award winning topical exhibit to non-Scott listed Brazil airmails!
Besides being a full time stamp dealer, I am active in my local philatelic community. I was elected to four terms as President of the Sarasota Philatelic Club (of which I am still a member); I was General Chair of the Sarasota National Stamp Exhibition (an American Philatelic Society World Series of Philately Show) for four years, & am still Volunteer Coordinator for that show; I am also an active member of the Venice Stamp Club.
For many years we have been proud members of a number of philatelic organizations, including the International Federation of Stamp Dealers Associations, American Philatelic Society, American Stamp Dealers Association, National Stamp Dealers Association, Florida Stamp Dealers Association, Stamp Dealers Association of Georgia, Midwest Stamp Dealers Association, Collectors Club of New York, American Association of Philatelic Exhibitors, British North American Philatelic Society, German Philatelic Society, United States Philatelic Classics Society, United States Stamp Society, etc.